What are the benefits of a Ziplink?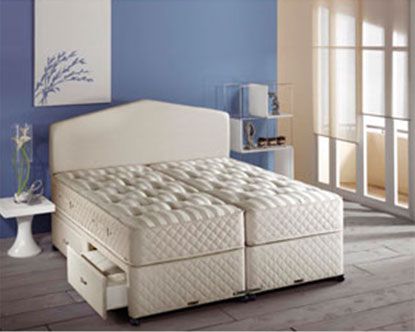 There are three standard sizes available;
Kingsize Ziplink (5'0 x 6'6) - Comprising of 2 x 2'6" x 6'6" beds This size is priced the same as Extraking models
Extraking Ziplink (6'0 x 6'3) - Comprising of 2 x 3'0" x 6'3" beds
Superking Ziplink (6'0 x 6'6) - Comprising of 2 x 3'0 x 6'6" beds
FULL ZIP&LINK SET FROM 750 EUROS
Each side of the bed is entirely independent of each other, thereby totally eliminating 'roll together' even when the springs are cage sprung. It is also an ideal solution for hotels and guest houses where the bed can be adapted to suit the guests requirements - either twin beds or one luxurious big bed.
Secondly, most stairwells cannot take a full superking size mattress to be delivered. A zip and link makes delivery possible. All Zip and Link mattresses are standard sizes and can fit into / onto any standard bedframe either Kingsize or Superking size but obviously cannot be separated.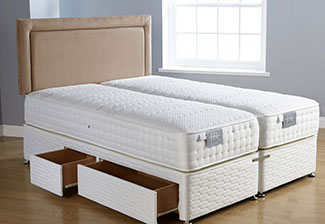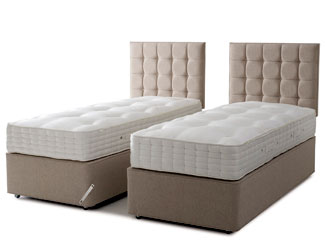 About King Size Zip and Links
A kingsize ziplink is the same overall size as a standard kingsize bed. 5'0 x 6'6". The bed is split into two making each side 2'6" wide and 6'6" long. This size of bed is practical when room size cannot accommodate a superking size bed. If you are looking to buy this type of bed for guest house / B&B use then bear in mind that when separated, a 2'6 wide bed is rather small for the average person.
About Extraking Size Zip and Links
An Extraking ziplink is 6'0 x 6'3". It is only the length of the bed that differentiates it from the superking size. Always bear in mind that some retailers describe this size as a Superking - which it clearly is not. Always check on the overall size before purchasing. This size of bed is ideal when your available room space is at a premium. The majority of zip and link beds with a pocket spring system will be offered in this extraking size - the price of the bed will increase dramatically if you are looking for a full superking size ziplink with a pocket spring system and you may be paying a premium for it.
About Superking Size Zip and Links
A Superking ziplink is 6'0 x 6'6". This is the standard size of a superking size bed whether it be a ziplink or one piece.
Will you feel the zippers?
No. The zippers are situated on the sides at the top of the mattress and the bottom of the mattress to enable the mattresses to be joined together. They are manufactured so that the zippers are just beneath the seam on the edge of the mattress. When together the seams fold over the zipper.
What type of mattress can I have?
We can supply any type of mattress from stock in zip and link format, at no extra cost! Pocket sprung, Pillow top, memory foam….the choice is yours!